Sociology class aims to help homeless people
---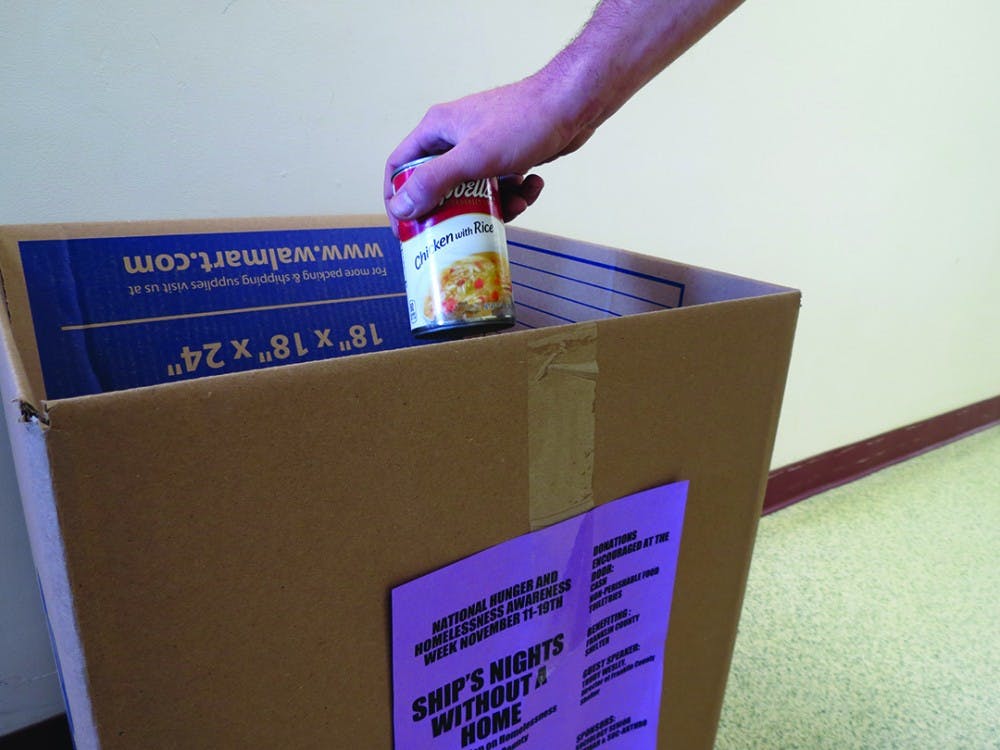 Students from professor Phillip Broyles sociology senior seminar class have placed donation boxes throughout campus for "Ship's Night Without a Home Campaign" in an effort to collect goods for the Franklin County Shelter in Chambersburg.
The donation campaign will last until Nov. 17. Donation boxes can be found in Naugle, Harley, Kieffer, Shippen, MCT, Rowland, Gilbert, Grove halls and the Ezra Lehmen Memorial Library.
"Our goal is to make people aware of hunger and homelessness as a national problem," said Rebecca Crown, a senior in the participating class. "And in the process, we are trying to raise donations for the Franklin County homeless shelter."
Two students, Crown and senior Diamond Hill explained that they are looking for donated items such as toiletries, non-perishable foods, diapers, blankets and cleaning supplies. They also explained that with each donation box, a poster can be found giving directions on what and when to donate.
The Franklin County Shelter, run by the South Central Community Action Programs (SCCAP), is currently underfunded and overlooked, according to Broyles, who is helping guide the students through their campaign.
The shelter not only provides necessities such as a bed to sleep in and food for the less-fortunate, but it also addresses the underlying problems of being homeless such as mental health issues.
The shelter offers counseling services that deal with anything from drug and alcohol problems to teaching basic finances.
According to Broyles, obtaining fresh food is a real problem for the shelter. Since nearly all food served at shelters is canned, there is a lack of fresh produce. To combat this, the shelter is currently partaking in what is referred to as gleaning. Gleaning is the donation of leftover crops and fresh produce not harvested from a farm.
"Part of the campaign is to dispel myths of homelessness and inform people of things such as 40 percent of homeless people once served in the military," Broyles said. "These people are good people who are misunderstood and often just have a lack of resources."
The campaign takes place during the National Hunger and Homelessness Awareness Week which spans from Nov. 11-19.
Along with collecting donations, "Ship's Night Without a Home" featured guest speaker Trudy Wesley, the director of the Franklin County Shelter, who spoke about the homelessness crisis in the area in Grove Forum Hall 101 on Monday evening. Her presentation focused on facts about homelessness and its impact in the area, according to Broyles.
Broyles emphasized the importance of helping the homeless and strongly encouraged donating.
"It's important to support each other in a time that our country is so divided and helping others is a good way to bring us together," Broyles said.
If you would like to support the campaign financially you may purchase $1 buttons sold in the CUB on Wednesday from 12–4p.m. and Friday from 12–4 p.m.