Student government swears in new members
---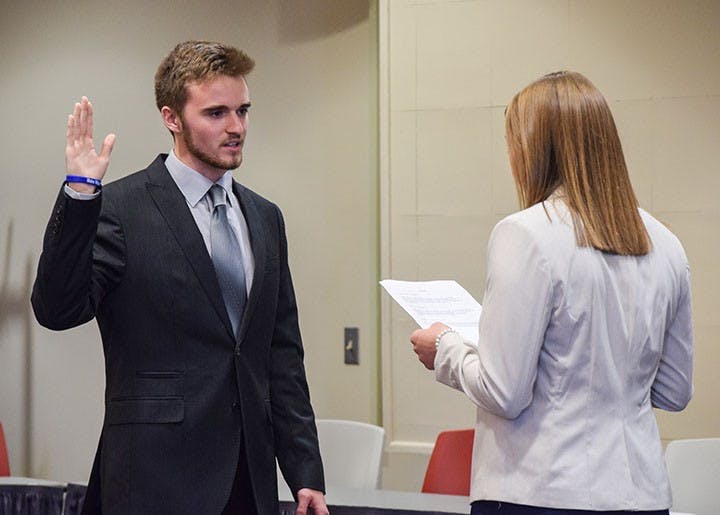 The newest class of Shippensburg University Student Government Association (SGA) leaders was sworn in last Thursday.
During the meeting, outgoing SGA President Madison Scarr swore in 2018-19 SGA President Logan Wein.
Wein proceeded to swear in the new SGA Vice President Makayla Glass, former SGA senator and now Secretary Meredith Scarr, as well as incumbent Treasurer Raven Francis. New senatorial positions include: Amanda Morelli for the college of business; Benjamin Greenberg for the college of education and human services; and class of 2019 Senators Sarah Kistner and Bria Stevenson.
Also sworn in were Logan Wert, who will represent the class of 2020, and Senator Jonathan Benner who will represent the class of 2021. Isaiah Smith and Ramses Ovalles will represent Multicultural Student Affairs (MSA) while Isaac Dietrich and Siara Gutierrez will represent the Residence Hall Association. Non-traditional students will be represented by Fredrick Horn. Jack Goertzen will represent athletics, and Lauren Grzyboski will be one of two representatives for Greek life.
There are various senatorial positions available that will be filled next semester.
Student trustee Evan Redding warned incoming student leaders about the position of leadership.
"Leadership is not a pretty business, you have a long road ahead of you," he said.
However, he added that it would also be one of the most rewarding things one can do.
The meeting concluded with a few SGA legalities and the passing of several budgets.
The final SGA meeting of the 2017-18 academic year is Thursday, May 3, at 4 p.m. in the Ceddia Union Building Room 119.